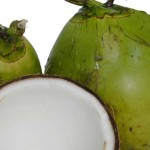 Coconut Avocado Shake by Mark Pace I like this version because it adds the benefits of young baby coconuts to the shake, and eliminates the downside of processed almond or soy milk while you are on a cleanse. Mark Pace
Servings

Prep Time

2

people

15

minutes
Servings

Prep Time

2

people

15

minutes
Coconut Avocado Shake by Mark Pace I like this version because it adds the benefits of young baby coconuts to the shake, and eliminates the downside of processed almond or soy milk while you are on a cleanse. Mark Pace

Servings

Prep Time

2

people

15

minutes

Servings

Prep Time

2

people

15

minutes
Open up the Young coconut. Pour coconut water and scoop meat into the blender. If you need instructions, check out the video link at the bottom of the recipe.

Remove pit and skin from avocados.

Cut produce into blender suited sizes.

Combine all ingredients in a high speed blender. Mix until well blended (whipped). Add more water or ice to desired consistency, if preferred.