Vibrational Greens
What makes Vibrational Greens different?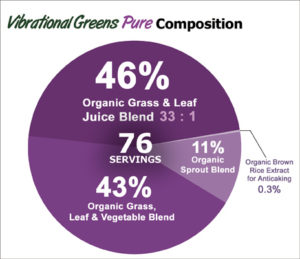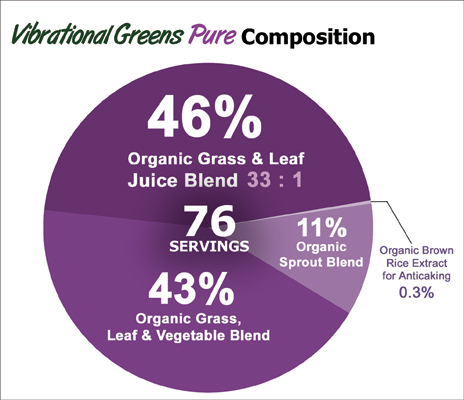 76 Delicious Servings.
Vibrational Greens is free from fillers and binders of any kind.
Vibrational Greens is formulated and founded by Nutritional Microscopist Fred Shadian. Prior to formulating Vibrational Greens, Fred has been instrumental in helping  several nutritional companies formulate their nutritional lines. Having worked with nutritional clients from different walks of life, Fred understands the importance that quality, concentration and taste of a greens formula play for the success of his clients.
After a decade of studying and analyzing live and dried blood samples around the world, Fred decided to make the best greens product on the market to help his clients.
Vibrational Greens:
Best Tasting Organic Greens drink on the market.
Best Quality Organic Greens drink on the market.
Best Priced Quality Organic Greens drink on the market.
Vibrational Greens is 100% certified organic and feature a high percentage of organic leaf and grass juice powders, the most concentrated form of green plant powder and the most expensive one to produce. The juice powders contribute to the smooth texture and deliciousness of Vibrational Greens.
Is Vibrational Greens Certified Organic?
What are the advantages of using an Organic greens formula?
Organic foods are free of pesticides, fertilizers and herbicides from seed to shelf allowing extremely high nutrient levels, giving your body a pure form of nutrition. Organic products are also eco-friendly, reducing the amount of chemical emissions released into the air, water and ground sources. Growing numbers of consumers are making the conscious effort to buy organic.
Why is a Certified Organic product better?
A certified organic product ensures superior quality and integrity.
Certifying a product to be organic is a rigorous and intricate process involving evaluation of every facet of the organic chain: from the land on which the product is grown; to the producers growing the product; to the post-harvest facilities preparing the product; to the processing and handling facilities transforming the product. This process is well worth the effort in terms of the long-term benefits for your family's wellness and the eco-systems in which we live!
Our products are 100% Certified Organic.
How do I use Vibrational Greens?
A popular way to use Vibrational Greens is to add 1 scoop of  Vibrational Greens powder to a glass of purified, distilled or alkaline water.
Stir and drink within 30 minutes.
If you prefer more water or more Vibrational Greens powder in each drink, you can adjust the above quantities to suit you. If you are new to this product, please also read FAQ:
What is the daily recommended dose for Vibrational Greens?
You can also add Vibrational Greens to shakes, smoothies, sauces like pesto sauce and gently warmed liquids.
Check out our recipes and videos.
What is the daily recommended dose for Vibrational Greens?
Vibrational Greens is a concentrated green juice powder blend.
Here are some general guidelines:
Recommended Usage: Mix with purified or distilled or alkaline water and drink within 30 min after mixing,
or you can simply add a scoop to shakes, smoothies, salads and meals.
If you are not used to drinking fresh vegetable juices, we generally recommend:
First time Usage: One scoop (3 g) in 250 – 500 ml (1 – 2 cups or 8 – 16 oz) of water once or twice a day.
Basic Usage: One scoop (3 g) in 250 – 500 ml (1 – 2 cups or 8 – 16 oz) of water three times a day.
Advanced Usage: One scoop (3 g) in 250 – 500 ml (1 – 2 cups or 8 – 16 oz) of water for every 25 lbs of body weight per day. (Some of our customers use Vibrational Greens alongside a temporary cleanse or fasting.)
What is the difference between the Vibrational Greens blends?
While both blends contain the same nutritional base formula (the Pure blend), each blend fulfills its own role. The ingredients for each blend are listed in detail in the individual product descriptions via the online store.
Pure: Purely nutritious, our highest in juiced greens; a great addition to your daily drinking water, shakes, salads or stirred into gently warmed drinks. Highest in chlorophyll and purest leaf and grass formula with a smooth texture and a pleasant pure taste.
Apple: Our mouthwatering refreshing Apple blend adds nutrients and flavor to your daily shakes, puddings and drinking water. Due to its refreshing taste and smooth consistency, we find this blend the most appealing and successful for those that are new to green powder drinks or those that have a history of purchasing green blends that normally end up sitting in their cupboards unused.
If you enjoy fruity drinks, you will love this blend.
Why does Vibrational Greens not contain Algae like Spirulina or Chlorella?
Vibrational Greens is formulated to be safe for everyday use.
Adaptogens like Spirulina, chlorella, echinacea, mushrooms, goldenseal and ginseng are class of supplements that help the body cope or "adapt" in stressful situations. While adaptogens can help to counteract stress, they are most effective when used in intervals with typical patterns like one week on / one week off. Longer, uninterrupted use of adaptogens leads to compromising of the lymphatic system.
We excluded adaptogens in our ingredients, so we can safely use Vibrational Greens every day as a micro-nutrient dense food ingredient.
What are the benefits of drinking Vibrational Greens?
Vibrational Greens is an all organic green juice powder blend designed for everyday use. The grass and leaf juice powders allow fast absorption and high concentration, while the whole grass and leaf powders and sprouts provide additional micronutrients.
9 Reasons to drink Vibrational Greens
100% Certified Organic
Delicious
Fresh juice on the go
Convenient powder form
Smooth texture
Easy to use
Great for travelling
76 servings
Works in cold and warm drinks, desserts, smoothies and many more recipes.
Find more information on specific ingredients of Vibrational Greens at Greens Benefits.
What are the ingredients of the Vibrational Greens formulas?
A detailed listing of the ingredients for each individual formula can be found here:
Vibrational Greens Pure is our core formula and also makes up the bulk of our delicious Apple blend.
The graph below illustrates that our Grass Juice & Leaf Juice Blend is the largest group of ingredients in our core formula, Vibrational Greens Pure.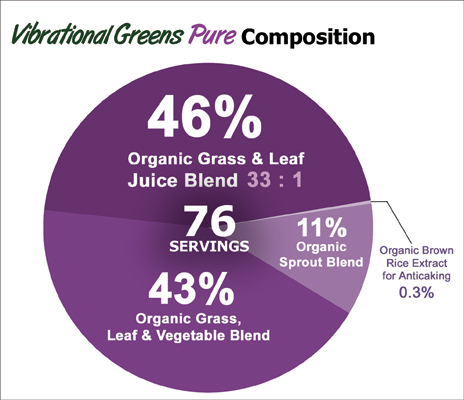 Does Vibrational Greens contain gluten?
Vibrational Greens contains juices and leaves of cereal grasses like Kamut grass, Barley grass and Wheat grass. These leaves themselves do not contain gluten, which is contained in the cereal grains only.
While our ingredients do not contain gluten, we are working on becoming certified gluten free in the near future. We will update this information once all is verified.
Ordering
How do I order Vibrational Greens?
You can order Vibrational Greens from our ShopOnLine page,
or visit one of our Local Vendors in Canada and USA,
or give us a call at 604-725-8897, if you like to place your order over the telephone.
How long will 1 canister of Vibrational Greens last me?
Each canister contains 1/2 lb (=229 g).
Each scoop / serving measures 3 g.
Each canister contains 76 servings of 3 g each.
Depending on usage, 1 Canister of Vibrational Greens lasts:
1 scoop daily = 76 days (2.5 months)
1 – 2 scoops (1.5) daily = 50 days (First Time Use)
2 scoops daily = 38 days
2 – 3 scopps (2.5) daily = 30 days
3 scoops daily = 25 days (Basic Use)
4 scoops daily = 19 days
5 scoops daily = 15 days (Advanced Use – based on body weight)
Please call us, if you like to receive a regular Vibrational Greens order automatically sent to you every two months.
Alternatively you can make a saving by ordering 2, 3 or 6 Vibrational Greens with our Coupon Codes, displayed on ShopOnLine. Call us if you like to order 12 Vibrational Greens or more.
How can I become a Local Vendor for Vibrational Greens?
If you would like to be a Local Vendor for Vibrational Greens.
Contact Us with your relevant information and website.
We will get back to you within 24 hours.
pH Balance
Why is the pH level of the body important?
The pH level is important because the body easily gets out of balance (too acidic) through various everyday factors including processed foods, stress, overexercise, foods high in sugars, starches and animal protein and environmental contributors.
This can result in the experience of Allergies, Anxiety, Aches and Pains, Bloating, Chronic Illness, Fatigue, Heartburn, Low Energy, Over Weight, Under Weight, Poor Digestion, Menstrual Cramps and other imbalances like lactic acid.
When the body's pH level is brought into balance many of the above acidic conditions can be assisted to clear up in most cases.
How do I test the pH of my saliva and urine?
1. Upon waking, test your saliva with pHydrion litmus paper.
When you get out of bed, before brushing your teeth, drinking or eating, wet the end of a pHydrion test strip with your saliva.
Note the color change; compare to the color chart on the container, and write down the pH number, date and time.
The optimum saliva pH should be between 6.8 and 7.2.
2. Next, test your first urine of the morning. This urine is highly concentrated so it is a good time for testing the pH.
Urinate on a strip of pHydrion paper; note the color change, compare to the color chart on the container, and write down the pH number, date, and time.
The pH of the first urine optimally should be between 6.8 and 7.2. If your first urine is lower than 6.8, you are deficient in alkaline buffers and need to move to a more alkaline diet rich in fresh green vegetables and low sugar fruits.
If your first urine is higher than 7.2, your alkaline buffers are sufficient to neutralize the acidic food and drink you ingested the day before.
To balance the pH of your urine, you need to move away from acidic foods and drinks, and begin ingesting liberal amounts of electron rich green vegetables, low sugar fruits and healthy polyunsaturated fats.
3. Test your second urine of the morning, before eating any food.
This number represents the pH of your second urine after you have eliminated the acid load from the day before. Ideally, the pH should be between 6.8 and 7.2.
If the pH is lower than 6.8, you are in a state of latent tissue acidosis and you are deficient in alkaline buffers such as bicarbonate, sodium, potassium and magnesium.
The lower pH is also indicative of a diet high in protein and an increase in acids from proteins including nitric, sulfuric, phosphoric, and uric acids. Eliminate from your diet proteins such as beef, chicken, turkey, pork, and fish to balance your pH, while eating liberal amounts of green foods and green drinks and healthy polyunsaturated fats.