Our Mission
To Create the Best Tasting and Best Quality 100% Certified Organic Products on the Market.
Quality is our top priority, ingredients will never be compromised.
Customers are the heart beat of our business.
Founder and Formulator: Fred Shadian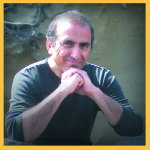 Fred Shadian lives in the Southern Gulf Islands, near Vancouver, BC, Canada and has been involved in the Health & Wellness Industry for over 26 years. Fred is one of Canada's top Nutritional Microscopists  (Nutritional Microscopy is the science of qualitative blood analysis for the purpose of evaluating health at the cellular level) since 2004.
Fred holds 3 BlackBelts in 3 different Martial Arts styles and has been teaching since 1989. He has produced 3 martial arts videos, a New Moon Meditation CD and is the author of a book called "Energetic Questions: Life's Simple Answers."
Fred is a Certified Firewalk Instructor (F.I.R.E), & a Energetic Body Alignment Practitioner utilizing the principles of Acupressure, Advanced Behavioral Modeling, Aiki Healing, Ericksonian Hypnosis, Egoscue Method, Natural Visualization, N.L.P, N.A.C, Polarity Balancing, Pranic Healing, Qigong and Zero Balancing.
Fred's speaking, training and healing abilities have guided thousands of individuals worldwide on how to achieve optimal health and to become more aware of and confident in awakening their own healing abilities. He has appeared on BCTV, CTV First Story, Chek TV, Canada A.M. and CBC Radio.